Tom Hurtz is a biker who thinks America is best experienced from the back of a motorcycle. The photos and commentary are from his 2017 journey through South Dakota's Badlands. This is part one of a series. Here is Part 2 of the series.
---
June 23, 2017
Leaving Tomorrow
Took a day off today to try to get everything ready to leave tomorrow.  The plan is to load the bikes this evening and leave early in the morning.  Speaking of loading the bikes, this trip is sponsored by Kraft Brothers, Inc.  Frank, the owner of Kraft, is letting us use a van to get there.  We can't thank him enough!  So, if you find yourself needing a horse walker, or horse treadmill, contact Kraft Brothers.  They make the best!  Cris, who I am going on this trip with, works for Frank at Kraft Brothers.
The plan is to go as far as we can tomorrow on our way to Rapid City, SD.  Rapid City will be our "base" as most everything should be a day trip from there.  Some things we hope to see on this trip are, The Badlands, Mount Rushmore, Devils Tower, Deadwood and ride to Montana just to say we've been there.  Oh, and buffalo.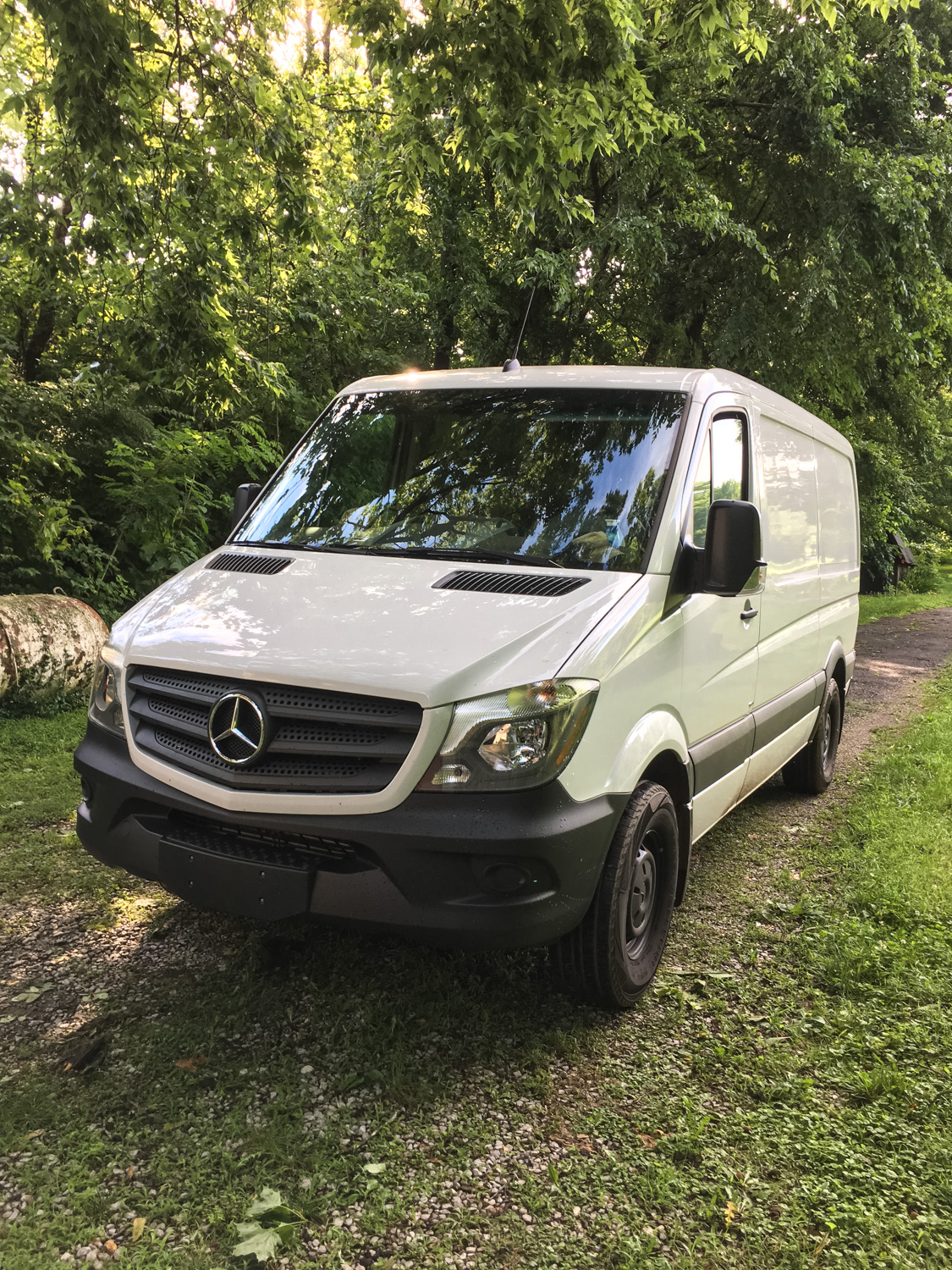 Corn
It seems like that's all we saw today was corn. But, we had great weather and it was a beautiful drive.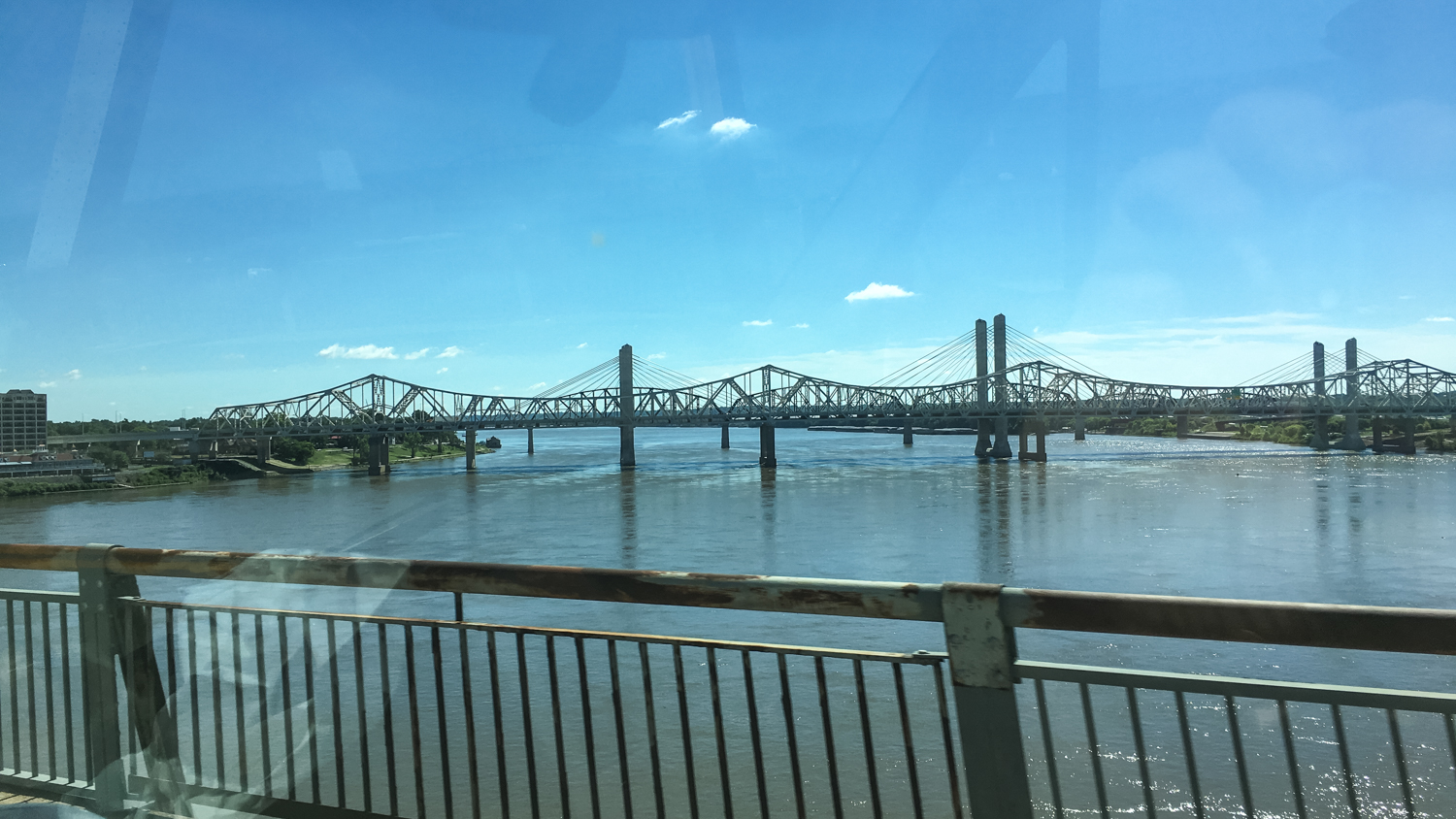 When we went past the Quaker Oats factory in Cedar Rapids it smelled like oatmeal. Pretty cool.
There are windmills everywhere. I tried to get some pictures, but it is difficult with the phone camera. They look so far away. The windmills are graceful and ugly at the same time.
We also stopped at the "world's largest truck stop", in Walcott, Iowa. It was big! They had a dog groomer, dentist, ect. We are staying in Austin Minnesota tonight. It is cold here and it looks like it might rain. We've got about 580 miles to go tomorrow to get to Rapid City. Not bad really. We are looking forward to tomorrow and getting there. Good travels so far! It is a big beautiful country!
June 24, 2017
Feeling Minnesota
We left this morning from Austin MN, in a 50 degree drizzle. After a couple of hours the weather cleared and it was sunny all day. The sky is a big part of your day through the section of Minnesota we were in. Lots of farms growing corn.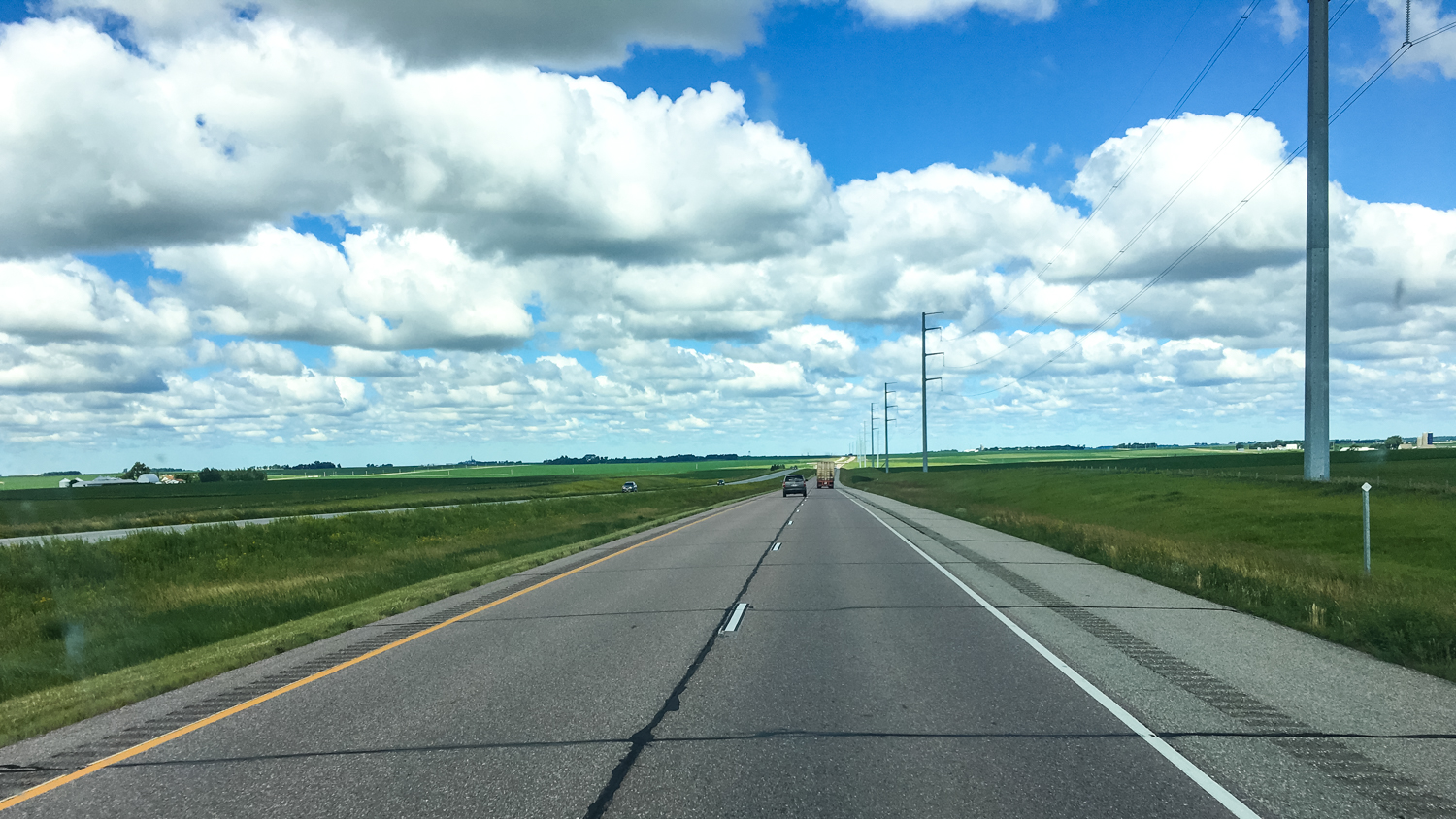 June 25, 2017
Devil's Gulch
We finally got to South Dakota sometime this morning. Cris found a place called Devil's Gulch. The write up on it said Jesse James jumped the Gulch on horseback while running from the law. Historians dispute the jump, as they say it is too far for a horse to cross. But it makes for good stories! Read more at roadsideamerica.com. It was actually a city park in a little town called Garretson, and it turned out to be really interesting. Right in the middle of the prairie is this gorge, with a fast stream running through it. The photos below show the area surrounding Devil's Gulch, this makes the Gulch all the more interesting, because it is so vastly different than the surrounding area.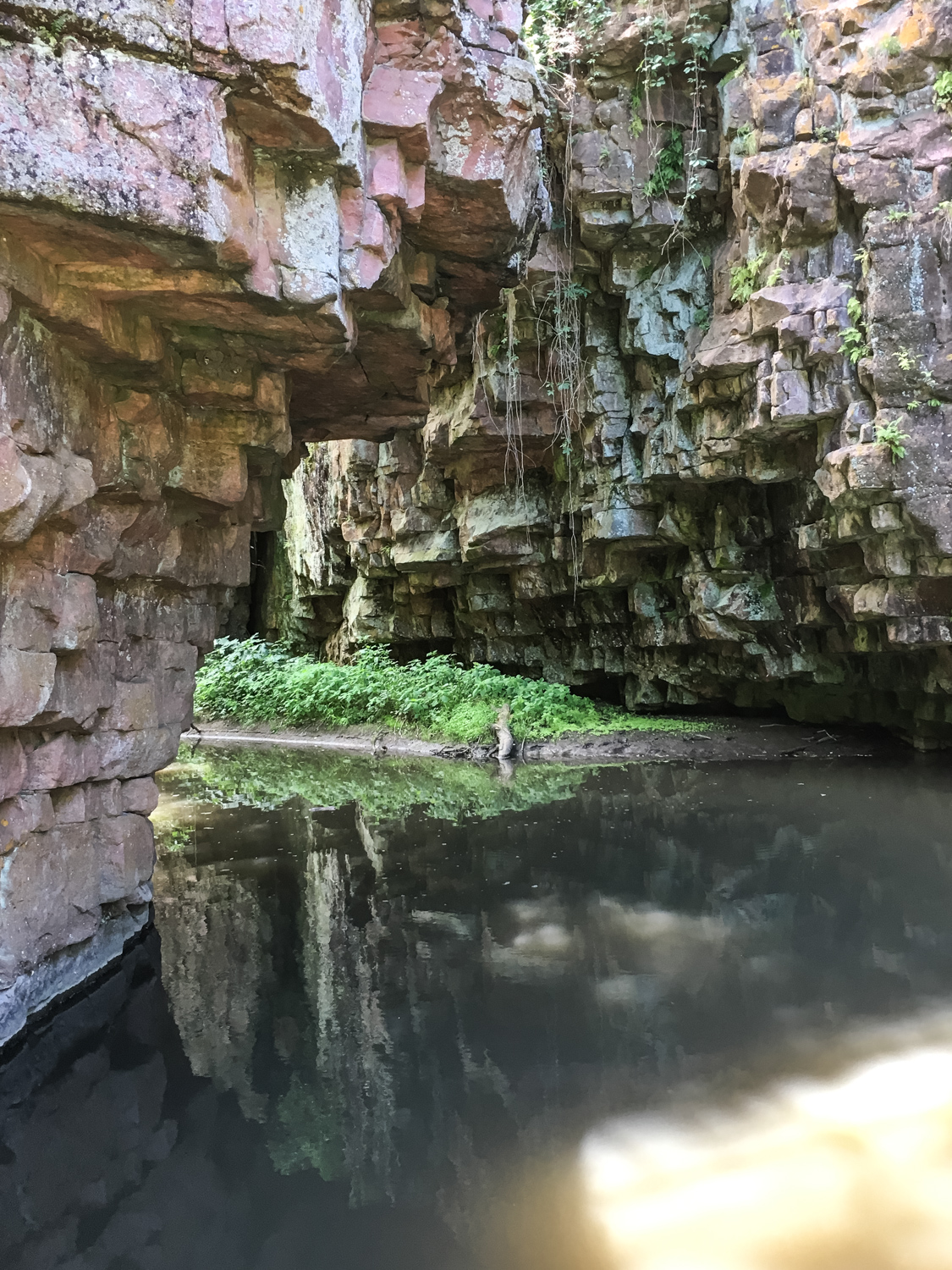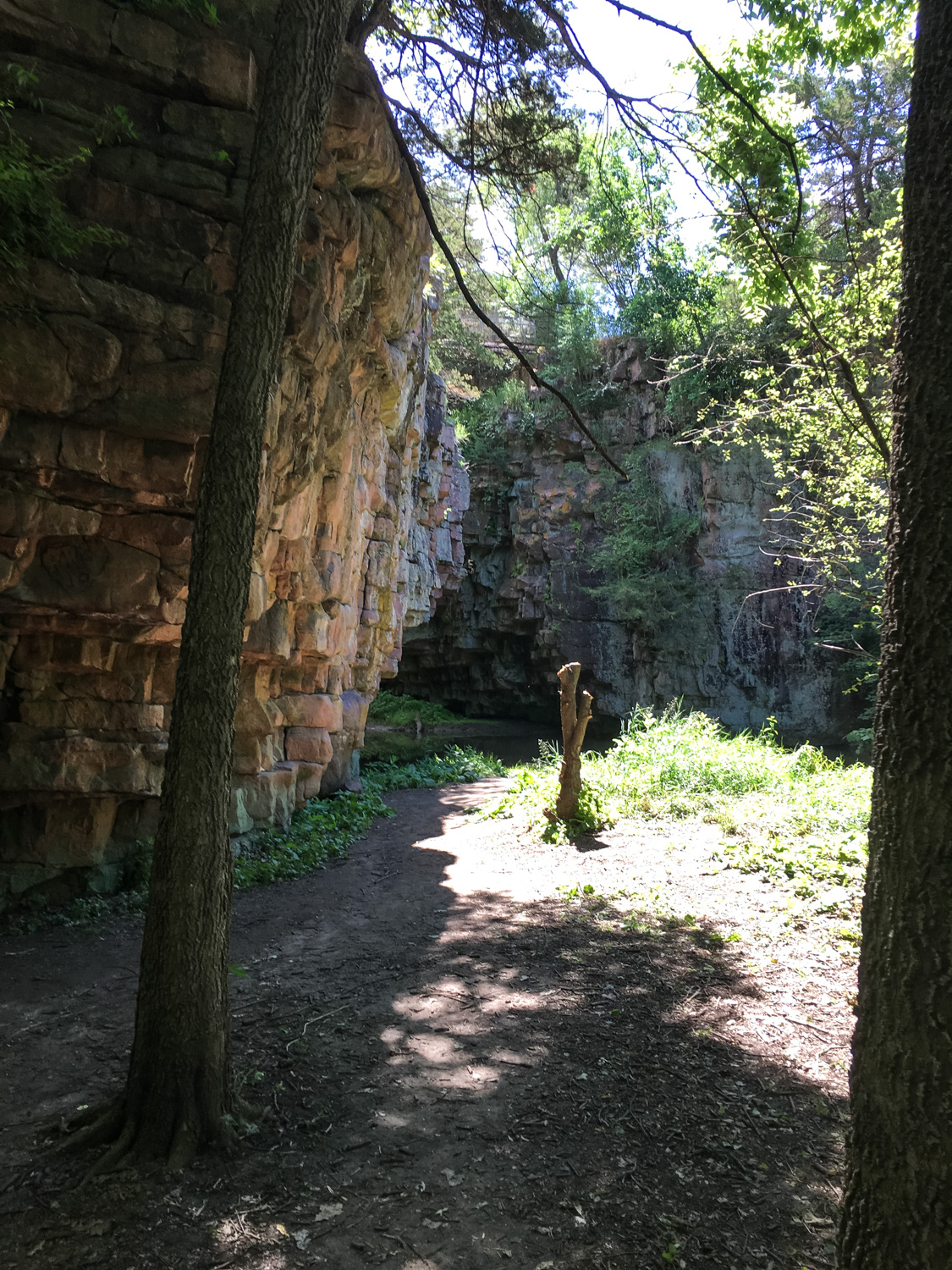 How cool is that? The rocks are very pink. On to Sioux Falls!
Sioux Falls
We went to Sioux Falls to check out the falls. They are downtown in a city park. The rocks around the falls are pink so it almost looked man made. It was a Sunday and pretty, so it was very crowded. Some pics are below.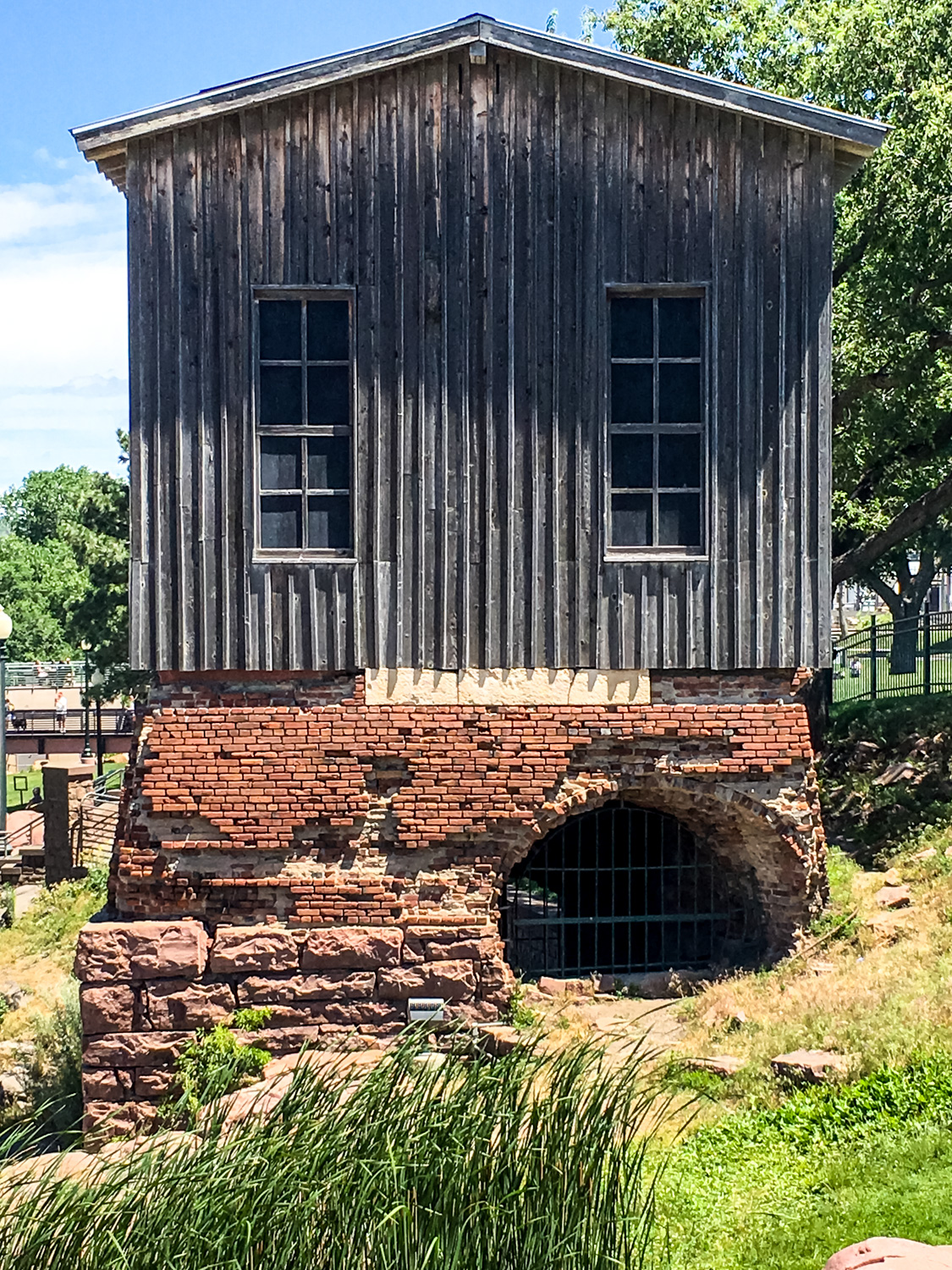 Dignity
This statue was at a rest area near Chamberlain Township, SD. It was pretty incredible. There is some info on it here.
Look at this, the braids of her hair. It's amazing.
The statue is huge!
Concrete tepee
Below are some cool things we saw as we got close to Rapid City.
You can see for miles!
Crazy Horse
We unloaded the bikes this morning and headed to Wyoming to go see Devil's Tower. On the way we passed the Crazy Horse monument. It was huge!  We stopped and snapped a pic, but didn't go because we had a long ride ahead and this is pretty close to where we are staying.  It looks like it will be every bit as good as Mt Rushmore. crazyhorsememorial.org/
The bikes ran good today. I got new tires on mine and I really like them! They ride very smooth.